4.5 star rating
4.7
53 Reviews
Pimping outside
Review by Amy K. on 6 Apr 2018
Baller status pimping outside.. get to know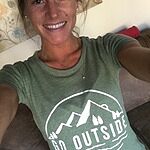 Danielle S.
5 star rating
Go outside tee
Review by Danielle S. on 16 Jul 2017
I effing love it!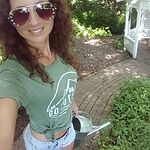 GO Outside Tee
Review by Candace W. on 12 Aug 2019
I am always a little nervous about the quality of a shirt when i order online. But i didn't really care when i ordered this shirt cause i just fell in love with it at first sight. and it was a pleasant surprise when i got it in my mail box! its so soft and light weight. and sooooooo cozy comfy. its probably my new favorite shirt. I am a short 5'3'' stature and the length fit great, probably a little long but i like long. I love the neckline and the sleeve length perfectly. like I said i wear it all the time its my new favorite. Just get it!
Love this...my new fav
Review by Bonnie H. on 25 Apr 2019
The fit was perfect, and it's so comfy. Love this shirt
Nathalie B.
5 star rating
La coupe est très belle
Review by Nathalie B. on 25 Apr 2019
La coupe est très belle et le tissus très doux!
Q: How can I become a sponsor for this adorable brand??
Q: it how do we return this item I ordered an XL and it looks like a small definitely does not ft
A: This is a womens fit. It is a classic fit so it is a little tighter than most our tees